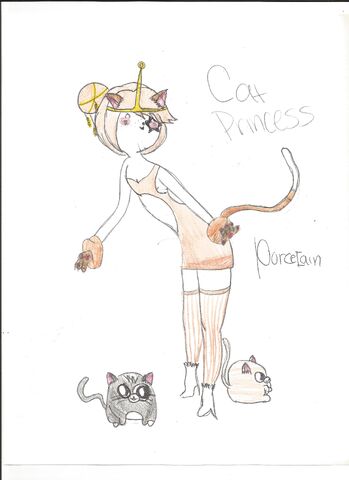 Biography
Edit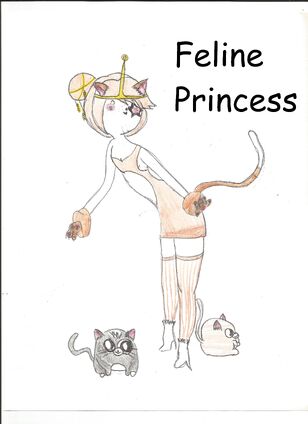 Feline Princess is an idea princess for Adventure Time. She is bioligically 16 years old, but her real age is unknown. Her species is Feline. her occupations are endless, such as a princess, a doctor, a scientist, an archaeologist, and a teacher. Her relatives are unknown. She rules the Feline Kingdom. Her nicknames are Cat Princess, CP, or FP2 (since there's already Flame Princess) She was also one of the only survivors of the Mushroom War, but she was affected with so much radiation, she turned into a humanoid feline.  Although her concept is much alike Cotton Candy Princess' concept. She very different. More pictures will be released.
Appearance
Edit
She has white fur with a mark on her eye of a star. She also has orange on her too . She appears with a tail tipped with white. She also has a crown that looks quite alike to Princess Bubblegum's, but the gem is orange with white pepperment-pattered stripes. Her single strapped dress is orange that shows a white circle on her tummy, and appears to show cleavage as well. She has ears much like a cat's, as she is the Feline Princess.She wears white and orange fur "high thighs" and white "high heels." Her paws are really poofy in such a way it gets into her holding stuff. She has no opposable thumbs. She was designed by Sydney Faulkner.
Personality
Edit
Although she may look cute and cuddly, she is also very hot headed. Her peasants often anger her in such a way that she feels she must punish them. But she doesn't.When she gets frightened her tail bushes up. Although she is much like the other princesses, including Flame Princess. She is sweet, but can get angered so easily in such a way. She is proud to take foreign visitors into her kingdom as long as they're not hostile. Like Princess Bubble gum, she is very much into science, but more into the history of Earth.
Friendships and Relationships
Edit
Finn and Feline princess haven't seen eachother too often, but Feline princess does love him. 
Marceline
Edit
Feline Princess despises Marceline as if she were nothing. They never speak.
Princess Bubblegum
Edit
Feline Princess and Princess Bubblegum may live very very far distance but that doesn't stop their friendship. They are ex-best friends but they still talk.
Feline Princess tries to avoid Ice King as much as possible. She doesn't hate him, she just doesn't like being around him. before the Mushroom 
- Fionna, Cake and their family may have grown up in the Feline Kingdom.
- Feline Princess was actually human before, but the radiation of the Mushroom bomb turned her into a cat.
- The first peasant of her Kingdom in her concept is based off Sydney's real life cat, Lucy.
File history
Click on a date/time to view the file as it appeared at that time.
Metadata