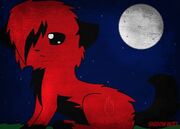 This is my wolf that I did not make one of my oldest friends on the wiki made it for me because I needed an OC/avatar. 
Personalty
Edit
He is silly at times but can be not so silly like he can take things and make it better and stuff. He is kind and likes to help people. He is 17 years old and for some odd reason he likes finger monkeys ~ he has a pet one that sits on solder. ~ He also is frends with the raindow piggy.
Some other pics I have of him
Edit
Ad blocker interference detected!
Wikia is a free-to-use site that makes money from advertising. We have a modified experience for viewers using ad blockers

Wikia is not accessible if you've made further modifications. Remove the custom ad blocker rule(s) and the page will load as expected.